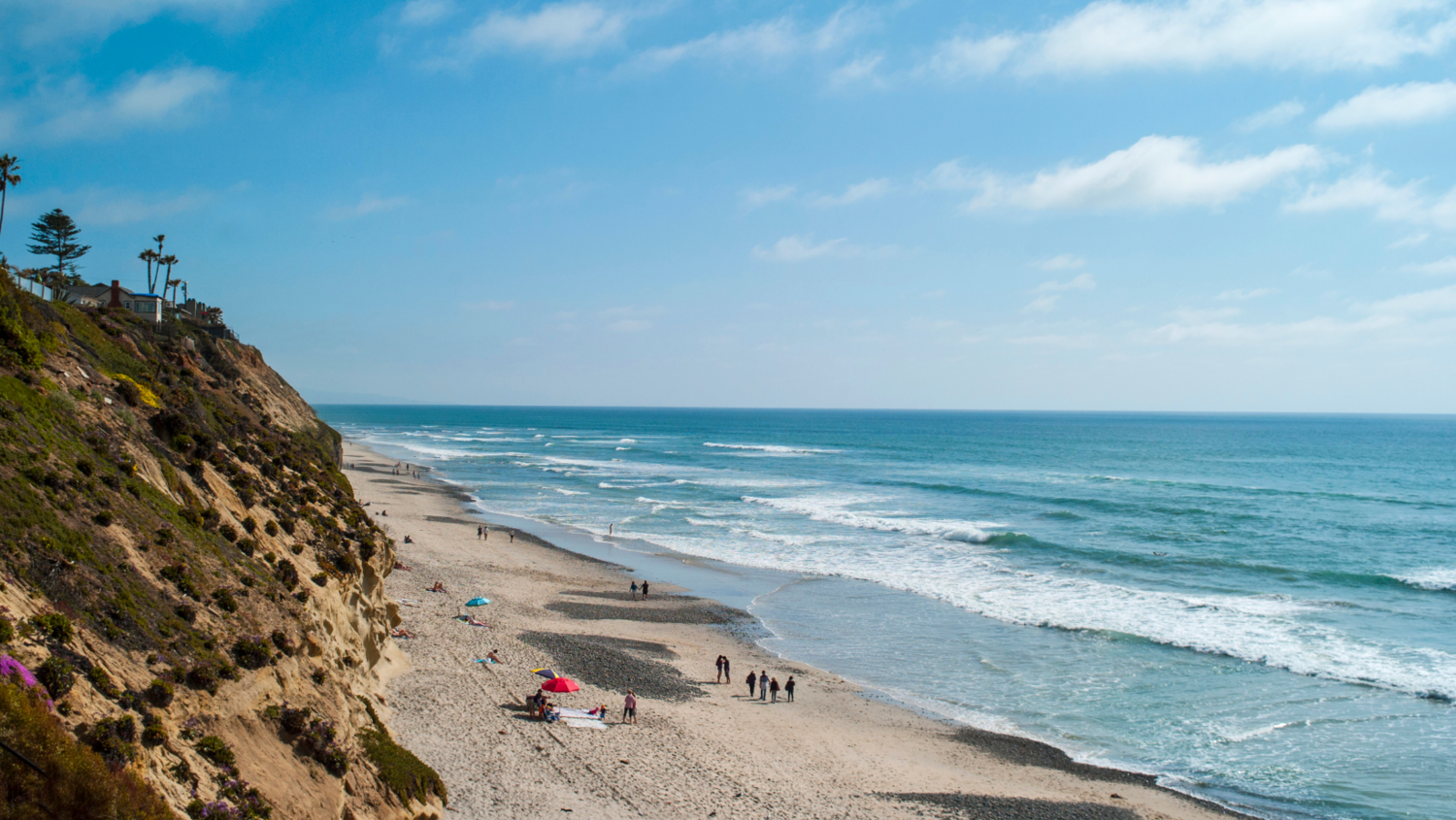 Climate Resilience & Coastal Adaptation
With the Pacific Ocean as our backyard, it is paramount that the City continues to prioritize projects and policies that promote coastal resilience and adaptation. The City recognizes the importance of protecting our six miles of coastline, which includes the people, plants, and animals that rely on the resources that the coast provides. The following section outlines ongoing and completed projects and programs the City implements to enhance our coastal environment and to adapt to future climate change, making our City more resilient to its impacts.
Coastal Storm Damage Reduction Project
The City is part of a collaborative coastal storm damage reduction project with the U.S. Army Corps of Engineers and the City of Solana Beach. The goal of the project is to reduce storm and sea level rise-related coastal damage and erosion by adding 340,000 cubic yards of compatible sand material along 7,800 feet of coastline, which encompasses D Street, Moonlight, and Stonesteps beaches. The project underwent the pre-construction, engineering, and design phases in 2020 and 2021. Monitoring will begin in the fall of 2022, to set baseline conditions of the shoreline environment and plan for future improvements. Funding is comprised of local, state, and federal sources and was previously delayed due to outstanding circumstances, such as COVID-19. In early 2022, the U.S. Army Corps of Engineers received $30 million on behalf of the City of Encinitas and the City of Solana Beach from the Bipartisan Infrastructure Bill to begin initial construction in late 2023-early 2024.
Last Updated November 30, 2022
Swami's State Marine Conservation Area and Marine Monitoring
Encinitas is home to the Swami's State Marine Conservation Area (SMCA), a state marine protected area (MPA) that spans from approximately Moonlight State Beach to South Cardiff State Beach and three miles of ocean westward from the shoreline. The Swami's SMCA was established in 2012. The effects of establishing the preserve are currently being evaluated by the California Department of Fish and Wildlife through the 2022 Decadal Management Review. The only allowable forms of fishing in the SMCA are recreational fishing (hook and line) from shore and spearfishing for white seabass and pelagic finfish. Fishing from boats is prohibited. The prevalence of healthy reefs in the Swami's SMCA are ideal for recreation but are unfortunately also a draw for poachers. To advance its priority of environmental stewardship, the City installed a marine monitoring (M2) radar in November 2020 on top of the Marine Safety Center at Moonlight State Beach in partnership with the designers of the radar program, Protected Seas, and WILDCOAST, an international environmental non-profit organization. M2 is a low-powered, high frequency marine radar coupled with specially designed software to track boat activity and illegal fishing in nearshore waters. The M2 monitoring is ongoing and has provided data that is critical to both management and enforcement of fishing restrictions in the Swami's SMCA.
Last updated November 30, 2022
Cardiff State Beach Living Shoreline Project
The Cardiff State Beach Living Shoreline Project, substantially completed in 2019, created a coastal dune with repurposed buried rock revetment and cobblestone and 30,000 cubic yards of sand dredged from the San Elijo Lagoon inlet. Native seeds and potted specimens were planted along the new shoreline with the aid of volunteers managed by the Nature Collective. The Cardiff State Beach Living Shoreline Project is the first of its kind in Southern California to test coastal dunes as a natural-based solution to beach erosion and flood protection of a vulnerable coastal asset. This project has also created healthy and safe habitats for a variety of species, including the endangered western snowy plover. A 5-foot wide, decomposed granite footpath was installed with the project, just east of the dune system, activating pedestrian activity from South Cardiff State Beach (Seaside) north, past the Chart House and Pacific Coast Grill restaurants along South Coast Highway 101. Additional, upgrades include the reconfiguration of beach parking (including ADA parking and ADA upgrades), the installation of a Mobi-Mat for ADA use during peak seasons, trash and recycling bins, and educational signage.
In 2019, a monitoring program was developed to study the Shoreline Project and to inform other coastal communities considering such adaptive measures. Monitoring data is also used to inform the project's long-term maintenance and will continue until 2024. This program is a collaborative effort between the City, California State Parks, California State Coastal Conservancy, the Nature Collective, U.S. Fish and Wildlife, Surfrider Foundation, University of California, Los Angeles (UCLA), and the Scripps Institution of Oceanography. In March 2021, the City accepted a national award from the American Shore and Beach Preservation Association (ASBPA) for Best Restored Beach of 2020.
Last updated November 30, 2022
Beacon's Coastal Bluff Restoration Project
In 2020, the Beacon's Coastal Bluff Restoration Project was designed. The project was, approved and permitted in early 2021.The primary objective of the project is to stabilize surface soils by planting native vegetation to protect the access trail, while also increasing coastal bluff habitat. The approximate 1.2-acre coastal bluff area largely sustained non-native species or bare ground prior to the project. With the installation of adapted native species—such as Coast Sunflower, Yucca, and California Sagebrush—the coastal bluff provides enhanced habitat for coastal species, stabilizes the bluff, and beautifies the trail. The restoration program also includes a pilot project which uses washed up kelp to encourage natural dune formation. The first round of bluff restoration was officially completed in November 2021. The City's Parks and Recreation Department plans to move forward with a second round of planting and restoration in the fall of 2022.
Last updated November 30, 2022
Sand Compatibility and Opportunistic Use Program
The Sand Compatibility and Opportunistic Use Program, or SCOUP, facilitates the use of available sand from construction sites and other opportunistic sources, from both private and public development projects SCOUP is part of a local sediment management plan intended to streamline beach nourishment projects. Beach nourishment is a process used to add additional sediment to a beach or nearshore area to provide increased storm protection, develop new habitat, and to enhance beach usage and recreation. The program includes stringent environmental regulations to ensure that the sand sources are compatible with receiver sites. The timing and location of sand placement are also strictly controlled to reduce any negative impacts on coastal habitats and recreation.
In collaboration with San Diego Association of Governments (SANDAG), Caltrans, and the City, 70,000 cubic yards of beach-quality Torrey Sandstone material was removed from the San Elijo Lagoon beginning in the winter of 2021 as part of the Build NCC (North Coast Corridor) project. Over the course of four months, the material was dredged and piped or hauled by truck to Cardiff State Beach or trucked to Moonlight State Beach. The City has used beach nourishment for many years as a method of building coastal resilience and will continue to do so in the future.
Last updated November 30, 2022